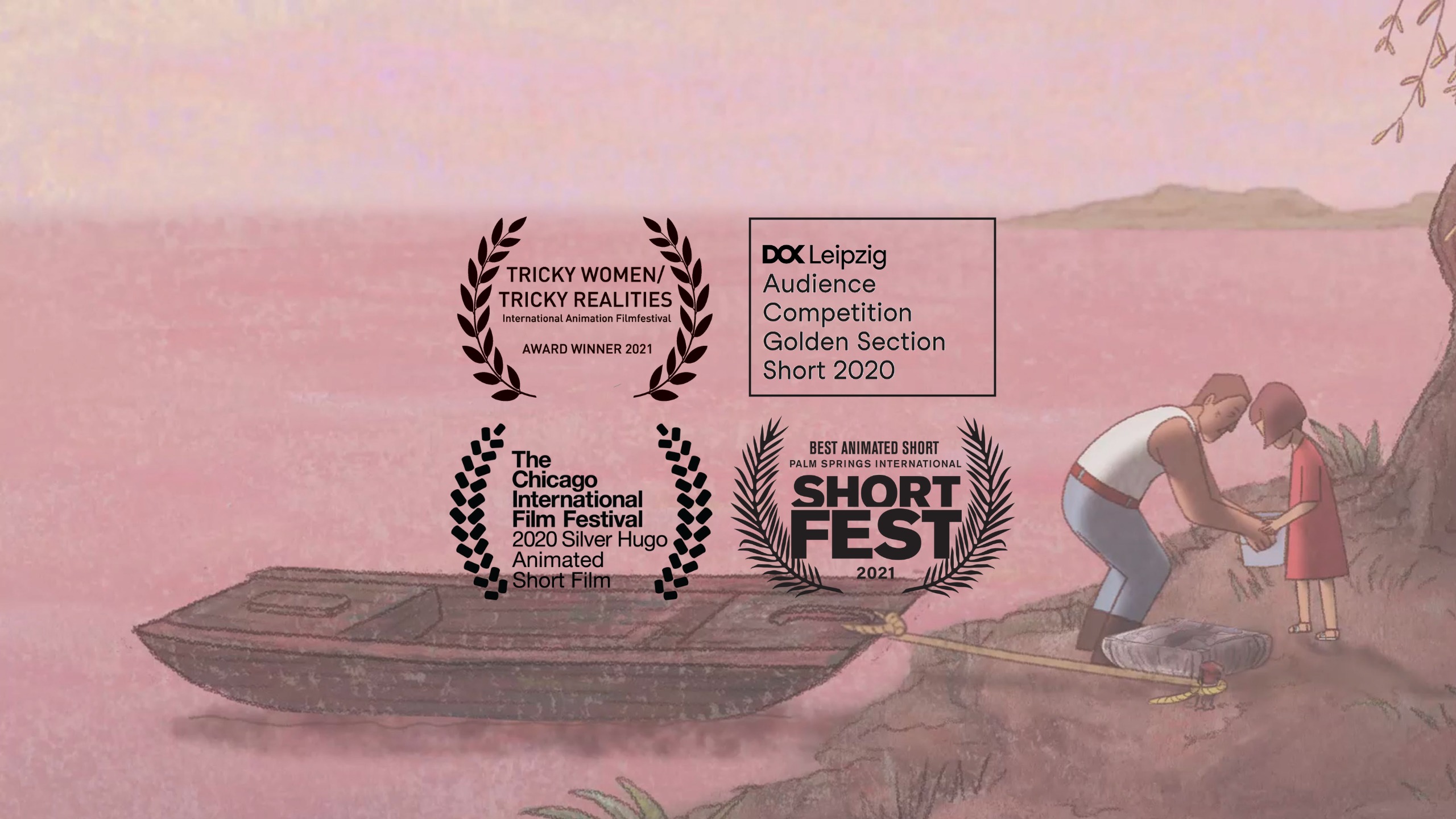 Dans la rivière
Un film d'animation de

Weijia Ma
15 min | 2020 | France – Chine | Production Les Valseurs
Sélectionné aux sessions de pitchs Animation du monde du
MIFA d'Annecy
(2016) Avec le soutien du Fonds d'aide à l'innovation du
CNC
(aide au développement), de la
Mairie de Paris
,
Aide au développement du Fonds d'Aide à l'Innovation Audiovisuelle, la Région Réunion et la Région Grand Est
.
Lu et Wei sont deux petites filles qui vivent dans un village au bord d'une rivière. Alors que la politique de l'enfant unique pousse certaines familles à noyer les bébés filles, elles entretiennent toutes les deux une relation particulière avec cette rivière, qui semble être le berceau d'histoires tragiques.
Lu and Wei are two young girls living in a village nestled on the banks of a river. As the one-child policy has led some families to drown baby girls, they both have a special relationship with this river, which looks like a cradle of tragic stories.
Pour voir le film, demandez le lien à distribution@lesvalseurs.com To watch the film, request the link at distribution@lesvalseurs.com

Réalisation : Weijia Ma
Scénario: Weijia Ma
Production : Les Valseurs & Vilarejo Filmes
Producteurs : Damien Megherbi, Justin Pechberty
Voix : Yifei Chen, Mingen Zhang, Guifen Zhang
Animation : Joseph Roth, Jihua Zhu, Mengshi Fang, Marion Chopin, Mathilde Poigniez, Thilbault Dumoulin, Kun Yu, Ziteng Qi, Juanjuan Chen, Samuel Boulitreau, Elsa Parent, Louise Petit
Montage : Jérôme Bréau
Son: Didier Falk, Théo Serror, Benjamin Lecuyer
Compositeur : Pablo Pico
Musician : Wei Wu, Knut Becker
1. Chicago International Film Festival | Silver Hugo Award | USA (2020)
2. Dok Leipzig, International Leipzig Festival for Documentary and Animated Film | Audience Award | Germany (2020)
3. Tricky women, tricky realities | Tricky Women/Tricky Realities Award | Austria (2021)
4. Palm Springs Shorts Fest | Best Animated Short | USA (2021)
5. Hexagon Film Festival | Best Animation | Italy (2021)
1. Chicago International Film Festival | USA (2020)
2. Dok Leipzig, International Leipzig Festival for Documentary and Animated Film | Germany (2020)
3. PÖFF Shorts (Black Nights Film Festival) | Estonie (2020)
4. Festival international du film d'animation de Bruxelles | Belgique (2021)
5. Tricky women, tricky realities | Austria (2021)
6. Stuttgart International Festival of Animated Film (ITFS) | Germany (2021)
7. Tampere Film Festival | Finland (2021)
8. San Francisco International Film Festival | USA (2021)
9. Akbank Short Film Festival | Turkey (2021)
10. Riga International Short Film Festival 2ANNAS | Latvia (2021)
11. International Short Film Festival Oberhausen | Germany (2021)
12. Oblikon Film Festival | France (2021)
13. ONE Country ONE Film International Festival | France (2021)
14. Lago Film Fest | Italy (2021)
15. La Guarimba International Short Film Festival | Italy (2021)
16. Leiden Shorts | Pays-Bas (2021)
17. Medina del Campo Film Festival | Spain (2021)
18. Animafest Zagreb | Croatie (2021)
19. Palm Springs Shortsfest | USA (2021)