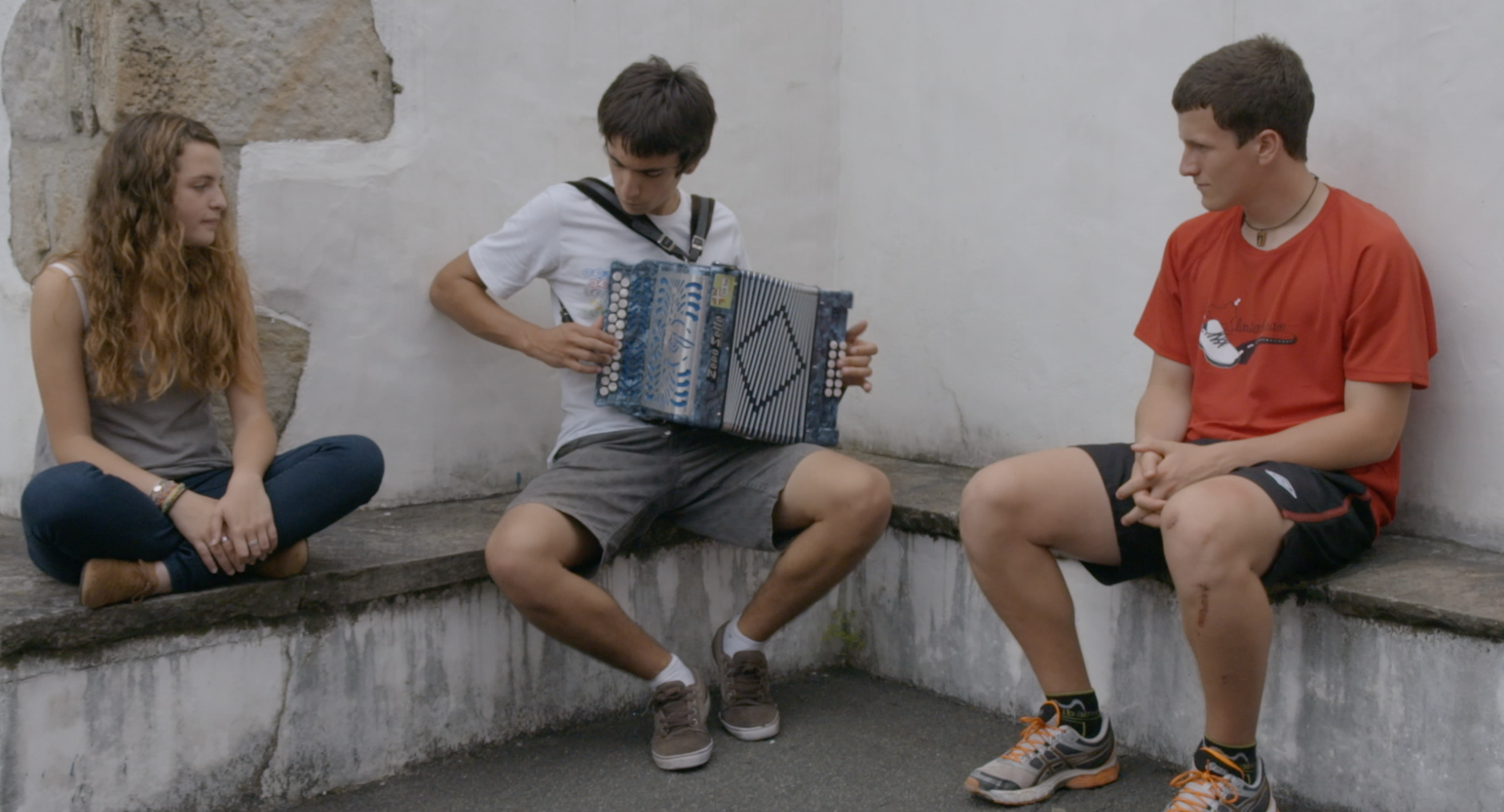 Faire la parole
Un documentaire d'Eugène Green
Titre basque : Hitza Egin

Sortie en salle le 15 novembre 2017
1h58 min | 2017 | France | Production LES VALSEURS
Avec le soutien de la Région Aquitaine et du Département des Pyrénées-Atlantiques, en partenariat avec le CNC.
Rendez-vous en bas de page pour télécharger le dossier de presse et les visuels du film.
Mondialisation qui uniformise, tourisme qui folklorise, État français et espagnol qui oppriment, que reste-t-il de la culture basque ? Le temps d'un été, quatre jeunes traversent le pays à la rencontre de celles et ceux qui résistent et s'expriment à travers leur art. Entre quête identitaire et voyage spirituel, ces adolescents découvrent la force de la langue la plus ancienne d'Europe occidentale, affirmation particulière d'un territoire et d'une histoire. Le premier documentaire d'Eugène Green, sublimement cadré par son opérateur de toujours, Raphael O'Byrne.
Standardizing globalization, folklorising tourism, oppressing French and Spanish states, what remains of the Basque culture?
For the duration of a summer, four young people travel the country to meet those who resist and express themselves through their art. Between identity quest and mystical trip, these teenagers discover the strength of a mysterious language, particular affirmation of a territory and a story.The first documentary by Eugène Green, sublimely framed by his lifelong operator, Raphael O'Byrne.
Trailer
Cinéma du Réel – Compétition française | France (2016)
TFF – Torino Film Festival – Sélection | Italie (2015)
Pour télécharger le dossier de presse cliquez ici
Pour télécharger l'affiche et les visuels cliquez ici
Pour télécharger la revue de presse cliquez ici
Pour voir le film, demandez le mot de passe à distribution@lesvalseurs.com Utilisez l'option CC pour activer les sous-titres français
To watch the film, request the password at distribution@lesvalseurs.com Use the CC option to activate the english subtitles